Xoph's Loyal
Xoph's Loyal

Location(s)
Xoph's Breach
Resistance(s)
Resists Elemental Damage
Resists Chaos Damage
Modifier(s)
Extra Fire Damage
Skill(s)
Melee
"Breach Cleave"
"Flame Breath"
"Hotdog Upheaval"
Cover In Ash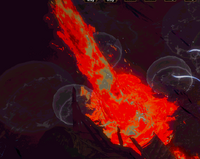 Xoph's Loyal is a kind of Hellion monster. It can only find in Xoph's Breach, such as in Xoph's Domain by using a
Xoph's BreachstoneXoph's BreachstoneCan be used in a personal Map Device.
(and its upgraded version), or in map's Breach by random. It looks similar to Xoph's Favoured. Both variants can be raised as a spectre.
Xoph's Loyal has a few internal variants which have different metadata id but the same displayed name.[1][2][3][4][5][6][7][8][9]
Some variant of Xoph's Loyal can cover enemies in Ash as one of the skill. It also attack the enemies by a line of flame from its mouth and then summon a fire whirl from where the flame landed.
All variant of Xoph's Loyal use the monster version of
CleaveCleaveAttack, AoE, Physical, Melee
Radius: 20
Mana Cost: 6
Cast Time: 1.00 sec
Attack Speed: 80% of Base
Effectiveness of Added Damage: (125%-170%)The character swings their weapon (or both weapons if dual wielding) in an arc, damaging monsters in an area in front of them. Only works with Axes and Swords.Per 1% Quality:12340.5% increased Attack Speed+1 Life gained for each Enemy hit by your Attacks2% increased Area of Effect while not Dual Wielding5% chance to Destroy Corpses on KillDeals (125-170)% of Base Attack Damage
When Dual Wielding, Deals 60% Damage from each Weapon combined
(2-75) to (3-113) Added Attack Physical Damage
+(0-6) to radiusPlace into an item socket of the right colour to gain this skill. Right click to remove from a socket.

(internal id: BreachCleave). According to the datamine result, some variant also use a skill "HotdogUpheaval".
The monster is re-skinned and re-introduced as a Delve unique monster, known as Fleshmelter.
References
Version history
| Version | Changes |
| --- | --- |
| 2.5.0 | |