Consider helping out in updating the wiki for 3.12.0 - see Path of Exile Wiki:To-do list/3.12.0.
Game data exports will becoming later as the technical changes in addition to regular changes take some more time.
Xoph's Domain
Xoph's Domain
Map area, Unique Map area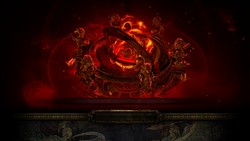 100% increased Experience gain
12% increased Monster Damage
Area does not contain Rogue Exiles (Hidden)
Minimap is Revealed
Xoph's Domain is an area that is only accessible when
Xoph's BreachstoneXoph's BreachstoneCan be used in a personal Map Device.
is used in a map device.
The area has a single breach at the beginning. When you touch it a countdown starts at 25 seconds and runs down until you come close to the arena of the Breachlord Xoph. The countdown goes up by 1 second per kill.
Monsters
Items found in this area
Item
The Gambler

The Gambler

5

Divination Card

"I don't believe in karma. If it were real, I would never win."

1
The Encroaching Darkness

The Encroaching Darkness

8

Map
Corrupted

No matter where your dreams take you, Nightmare follows close behind.

1
The Formless FlameThe Formless Flame
Siege HelmetQuality: +20%
Armour: (404-428)Requires Level 48, 101 Str+(100-120) to Armour
+(40-50) to maximum Life
-20 Fire Damage taken from Hits
Armour is increased by Uncapped Fire ResistanceOur skin turns to ash
and we are swallowed by his brilliant red light.

This item can be transformed with a Blessing of Xoph
48
Xoph's HeartXoph's Heart
Amber AmuletRequires Level 35+(20-30) to Strength+(20-30) to Strength
25% increased Fire Damage
+(25-35) to maximum Life
+(20-40)% to Fire Resistance
Cover Enemies in Ash when they Hit youHis is our heart.
To its beat we are all driven.

This item can be transformed with a Blessing of Xoph
35
Xoph's InceptionXoph's Inception
Bone BowBow
Quality: +20%
Physical Damage: (20.9-23.1)–(64.6-71.4)
Critical Strike Chance: 6.50%
Attacks per Second: 1.40
Weapon Range: 120Requires Level 23, 80 Dex(70-90)% increased Physical Damage
+(20-30) Life gained on Killing Ignited Enemies
Gain 20% of Physical Damage as Extra Fire Damage
10% chance to IgniteUpon the red pyre we are born.

This item can be transformed with a Blessing of Xoph
23
Blessing of Xoph

Blessing of Xoph

Stack Size: 10

Upgrades a breach unique item to a more powerful version

Right click this item then left click an applicable breach unique item to upgrade it.
Shift click to unstack.
1
The Escape

The Escape

5

Seven-League Step

In fleeing reality, you step into the realm of madness.

1
Version history
| Version | Changes |
| --- | --- |
| 2.5.0 | |