Consider helping out in updating the wiki for 3.12.0 - see Path of Exile Wiki:To-do list/3.12.0.
Game data exports will becoming later as the technical changes in addition to regular changes take some more time.
Weylam's War Chest
Weylam's War Chest
Arcanist's Strongbox
Guarded by 3 packs of Monsters
Contains an additional Pirate Unique item
Contains (20-30) additional Items
Guarded by a stream of Ghost Pirates
Guarded by the Maiden of the Black Crest
A captain's first love is his ship.
They either die together,
or forever linger apart.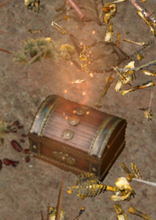 Weylam's War Chest is a unique Arcanist's Strongbox.
Possible loot
The chest may contain one pirate-themed unique item: