Consider helping out in updating the wiki for 3.12.0 - see Path of Exile Wiki:To-do list/3.12.0.
Game data exports will becoming later as the technical changes in addition to regular changes take some more time.
Waypoint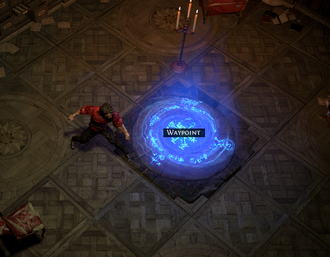 Waypoints are a way to fast travel between different zones, acts and difficulties. They appear as blue shapes in the overlay map, and display as white when moused-over.
Waypoint UI
When you click a waypoint, the quest UI is displayed, but you can click an Area with Active Waypoint to travel there. Ctrl+Click the Area with Active Waypoint in the map to display the Instances UI, where you can create a new instance to a zone or join an existing one. This is especially useful when playing with a party or in a cutthroat league.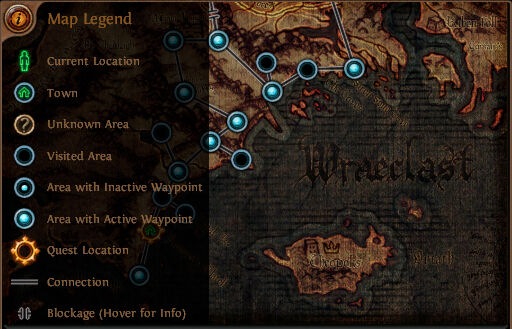 Zones with Waypoints
Act 1
Act 2
Act 3
Act 4
Act 5
Act 6
Act 7
Act 8
Act 9
Act 10
Epilogue
Other Areas
Achievements
| Name | Description |
| --- | --- |
| Locomancer | Tag each waypoint. |
Version history
Version
Changes
3.0.0

A Waypoint has been added to The Solaris Temple Level 1.
The Waypoint in Chamber of Sins Level 2 has been moved to Chamber of Sins Level 1.
The Waypoint in The Marketplace has been moved near Marceus the Defaced.
The Waypoint in The Ebony Barracks has been moved closer to the entrance to the sewers.
The Twilight Strand was removed from the game.
Added a waypoint to the Aspirants' Plaza which can be used to access the Plaza from any other waypoint.

2.0.0

The Waypoint in The Mud Flats has been moved to The Coast.
A Waypoint has been added to The Riverways.
The Dark Forest "The Blackwood" has been removed.
The Vaal Ruins Level 1 and Vaal Ruins Level 2 have been merged. Its waypoint has been removed.
A new area, The Northern Forest, has been added. This area has a waypoint.
Lunaris Temple Level 1 and Lunaris Temple Level 2 have been merged. The waypoint is now in this merged area.