Consider helping out in updating the wiki for 3.12.0 - see Path of Exile Wiki:To-do list/3.12.0.
Game data exports will becoming later as the technical changes in addition to regular changes take some more time.
Villa Map
Villa Map
Map Level: 69
Map Tier: 2
Guild Character: ³
Wealth is powerless to stop the corroding force of time.
Travel to this Map by using it in a personal Map Device. Maps can only be used once.
Additional Information
Region Upgrades Chart
Upgrade Level
0
1
2
3
4
Tier
2
5
9
11
14
Map Level
69
72
76
78
81
Connections
Factory Map (Harvest)
✗
✗
✓
✓
✓
Graveyard Map (Harvest)
✗
✓
✓
✓
✓
Mud Geyser Map (Harvest)
✓
✗
✗
✗
✗
Sulphur Vents Map (Harvest)
✓
✓
✓
✓
✓
Tropical Island Map (Harvest)
✓
✓
✗
✗
✗
Wasteland Map (Harvest)
✓
✓
✓
✓
✓
Acquisition
Level: 68
Purchase Costs
Sell Price
1x Scroll Fragment
Miscellaneous
Item class: Maps
| | |
| --- | --- |
| Id | MapWorldsVilla |
| Act | 11 |
| Area level | 79 |
| Bosses | The High Templar |
| Area type tags | dungeon, temple, urban |
| Tags | indoors_area, map, delve_chest, einharmaps, sceptre_of_god_area, rain_area, wealthy_area |
| | The Shaper: Wealth is powerless to stop the corroding force of time. |
Wealth is powerless to stop the corroding force of time.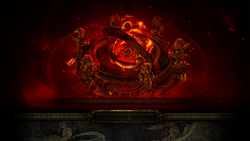 Layout
Encounters
Boss
Boss video
Items found in this area
Item acquisition
Upgrade paths
This item can be acquired through the following upgrade paths or vendor recipes:

Amount
Ingredient
General
Notes
Type
4
Boundless Realms

Boundless Realms

4

Map

Boundless is the distance between where we start and where we start again.

random Map
Automatic
6
The Explorer

The Explorer

6

Map


Corrupted

A map is only useful if you know where you stand.

random corrupted Map
Automatic
Unique versions
There are currently no unique items for this base item type.
Version history
Version
Changes
3.5.0

The Atlas of Worlds has been shuffled. Most maps have changed tier and location within the Atlas.
Many map bosses have also shifted around. Some have been retired and replaced!

3.1.0

Added 32 new maps including two new Unique maps.
The entire Atlas has been reworked. Many map names have changed, as have their balance, tier and position on the Atlas. Many maps have also had their boss fights swapped or completely reworked.
The rules used to generate monsters in endgame maps have been significantly reworked and rebalanced around the rate at which we expect players to reliably clear out the map. In general, narrow, linear maps will contain fewer total monsters than maps with complex layouts. We will be closely monitoring and adjusting the balance of this change and expect to make further changes and improvements over time.