Consider helping out in updating the wiki for 3.12.0 - see Path of Exile Wiki:To-do list/3.12.0.
Game data exports will becoming later as the technical changes in addition to regular changes take some more time.
Vaal Pyramid Map (Betrayal)
Vaal Pyramid Map
Map Level: 72
Map Tier: 5
Guild Character: ~
A good slave is driven by
only two thoughts:
service and sacrifice.
Travel to this Map by using it in the Templar Laboratory or a personal Map Device. Maps can only be used once.
Acquisition
Level: 71
DROP DISABLED
Purchase Costs
Sell Price
1x Scroll Fragment
Miscellaneous
Item class: Maps
A good slave is driven by

only two thoughts:

service and sacrifice.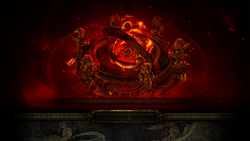 Vaal Pyramid Map (Betrayal) is a map area.
Layout
Encounters
Boss
Boss video
Items found in this area
Item
The Gambler

The Gambler

5

Divination Card

"I don't believe in karma. If it were real, I would never win."

1
The Inventor

The Inventor

6

10x Vaal OrbJump right in,
But beware
Of things broken
Or beyond compare.
1
The Encroaching Darkness

The Encroaching Darkness

8

Map


Corrupted

No matter where your dreams take you, Nightmare follows close behind.

1
The Spoiled Prince

The Spoiled Prince

4

Dictator's Prophecy Wand




Item Level:

100

A boy who grows up with everything learns to appreciate nothing.

1
The Trial

The Trial

7

Map




Map Tier:

15


Corrupted

You cannot journey to new lands until you have the courage to leave the safety of home.

1
The Catalyst

The Catalyst

3

Vaal Orb

Simple actions can lead the world to an early grave.

1
Marble Amulet

Marble Amulet

Requires Level 74Regenerate (1.2-1.6)% of Life per second
74
The Admirer

The Admirer

9

Atziri Item

Lucian lost himself in ancient scrolls and found in those scrolls a love whose power bridged a millennium.

1
Three Voices

Three Voices

3

3x Essence

The village elders had a curious rule: If you hear three voices scream for aid, flee as fast as you can.

1
The Hive of Knowledge

The Hive of Knowledge

6

Machina Mitts
Two-Implicit
Corrupted

Within years of knowledge, distilled by careful craftsmanship, lies great power.

1
Item acquisition
This item is drop disabled.
Unique versions
Item
Vaults of AtziriVaults of Atziri
Vaal Pyramid MapMap Level: 72
Map Tier: 5
Guild Character: gChests have (2500-3500)% increased Item Rarity
Area contains no monsters
Chest drop scaling is disabled. (Hidden)
Found Items have a (20-40)% chance to drop Corrupted in Area"Should I depart this mortal coil,
so shall all of my treasures."
- Atziri, Queen of the Vaal

Travel to this Map by using it in the Templar Laboratory or a personal Map Device. Maps can only be used once.

1
Version history
Version
Changes
3.5.0

The Atlas of Worlds has been shuffled. Most maps have changed tier and location within the Atlas.
Many map bosses have also shifted around. Some have been retired and replaced!

3.1.0

Added 32 new maps including two new Unique maps.
The entire Atlas has been reworked. Many map names have changed, as have their balance, tier and position on the Atlas. Many maps have also had their boss fights swapped or completely reworked.
The rules used to generate monsters in endgame maps have been significantly reworked and rebalanced around the rate at which we expect players to reliably clear out the map. In general, narrow, linear maps will contain fewer total monsters than maps with complex layouts. We will be closely monitoring and adjusting the balance of this change and expect to make further changes and improvements over time.

2.4.0

Replaced Atziri's Chosen with The Fallen Queen,The Hollow Lady and The Broken Prince

1.0.2

Added additional Vaal Construct packs to the signature monsters for the Vaal Pyramid Map.