Consider helping out in updating the wiki for 3.12.0 - see Path of Exile Wiki:To-do list/3.12.0.
Game data exports will becoming later as the technical changes in addition to regular changes take some more time.
Uul-Netol's Domain
Uul-Netol's Domain
Map area, Unique Map area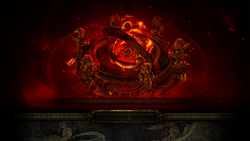 15% increased Monster Damage
150% increased Experience gain
Area does not contain Rogue Exiles (Hidden)
Minimap is Revealed
Uul-Netol's Domain is an area that is only accessible when
Uul-Netol's BreachstoneUul-Netol's BreachstoneCan be used in a personal Map Device.
is used in a map device.
The area has a single breach at the beginning. When you touch it a countdown starts at 25 seconds and runs down until you come close to the arena of Uul-Netol. The countdown goes up by 1 second per kill.
Note: The timer in Uul-Netol's Domain and Chayula's Domain gains less time from white monsters than the timers in the lower level Breachlord Domains. In Uul-Netol's Domain, the best strategy is to focus on killing yellows only, because wasting too much time killing white monsters will never generate enough time to keep up.
Monsters
Items found in this area
Item
The Gambler

The Gambler

5

Divination Card

"I don't believe in karma. If it were real, I would never win."

1
The Encroaching Darkness

The Encroaching Darkness

8

Map


Corrupted

No matter where your dreams take you, Nightmare follows close behind.

1
The Infinite PursuitThe Infinite Pursuit
Goliath GreavesQuality: +20%
Armour: 212Requires Level 54, 95 Str+(30-60) to maximum Life
20% increased Movement Speed
Moving while Bleeding doesn't cause you to take extra Damage
15% increased Movement Speed while Bleeding
50% chance to be inflicted with Bleeding when Hit by an AttackWe move to be closer to her, but the distance yet grows.

This item can be transformed with a Blessing of Uul-Netol
54
Blessing of Uul-Netol

Blessing of Uul-Netol

Stack Size: 10

Upgrades a breach unique item to a more powerful version

Right click this item then left click an applicable breach unique item to upgrade it.
Shift click to unstack.
1
Uul-Netol's KissUul-Netol's Kiss
LabrysTwo Handed Axe
Quality: +20%
Physical Damage: (163.8-182.7)–(273-304.5)
Critical Strike Chance: 5.00%
Attacks per Second: 1.02
Weapon Range: 13Requires Level 49, 122 Str, 53 Dex(140-170)% increased Physical Damage
15% reduced Attack Speed
25% chance to Curse Enemies with Level 10 Vulnerability on Hit
Attacks have 25% chance to inflict Bleeding when Hitting Cursed EnemiesWe feel the mother's love
And beg to return to her womb.

This item can be transformed with a Blessing of Uul-Netol
49
The AnticipationThe Anticipation
Ezomyte Tower ShieldQuality: +20%
Chance to Block: 30%
Armour: (1252-1461)
Movement Speed: -3%Requires Level 64, 159 Str+(30-40) to maximum Life(120-160)% increased Armour
+(50-70) to maximum Life
+6% Chance to Block
+1000 Armour if you've Blocked Recently
Permanently Intimidate Enemies on BlockWe are within her reach,
and when the time is right,
she will reach into us.

This item can be transformed with a Blessing of Uul-Netol
64
Version history
| Version | Changes |
| --- | --- |
| 2.5.0 | |