Consider helping out in updating the wiki for 3.12.0 - see Path of Exile Wiki:To-do list/3.12.0.
Game data exports will becoming later as the technical changes in addition to regular changes take some more time.
Toxic Sewer Map (The Awakening)
Toxic Sewer Map
Map Level: 69
Map Tier: 2
Guild Character: S
Travel to this Map by using it in the Templar Laboratory or a personal Map Device. Maps can only be used once.
Acquisition
Level: 69
DROP DISABLED
Purchase Costs
Sell Price
1x Scroll Fragment
Miscellaneous
Item class: Maps
Metadata ID: Metadata/Items/Maps/Map2Tier2_1
| | |
| --- | --- |
| Id | Map2Tier2_1 |
| Act | 11 |
| Area level | 69 |
| Bosses | Arachnoxia |
| Area type tags | dungeon, swamp |
| Tags | indoors_area, map, area_with_water, einharmaps, sewer_area, vile_areas |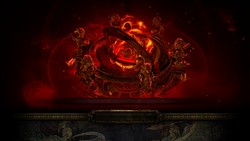 Sewer Map is a map.
Items found in this area
Item
The Gambler

The Gambler

5

Divination Card

"I don't believe in karma. If it were real, I would never win."

1
Her Mask

Her Mask

4

Sacrifice FragmentTo her beauty you submit,
lest your neck the great Queen slit.
1
Item acquisition
This item is drop disabled.
Unique versions
There are currently no unique items for this base item type.
Other versions