Consider helping out in updating the wiki for 3.12.0 - see Path of Exile Wiki:To-do list/3.12.0.
Game data exports will becoming later as the technical changes in addition to regular changes take some more time.
Towering Hideout
Towering Hideout
Hideout area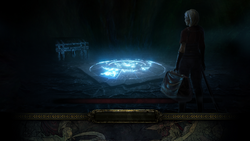 Towering Hideout is a hideout based on
Pillars of ArunPillars of Arun
Dunes MapMap Level: 75
Map Tier: 8
Guild Character: ›
Item Quantity: (+100%-+150%)
Item Rarity: (+200%-+300%)(60-100)% increased Experience gain
Area contains unbridged gaps to cross
Monsters have 50% chance to Avoid Ailments
(20-25)% increased Monster Movement Speed
(20-25)% increased Monster Attack Speed
(20-25)% increased Monster Cast Speed
Players have 200% increased Cooldown Recovery Rate for Movement SkillsMan creates where nature cannot.Travel to this Map by using it in the Templar Laboratory or a personal Map Device. Maps can only be used once.
. It can be purchased in the shop for 190 points.
Preview
Version history
| Version | Changes |
| --- | --- |
| 3.8.1d | |