Consider helping out in updating the wiki for 3.12.0 - see Path of Exile Wiki:To-do list/3.12.0.
Game data exports will becoming later as the technical changes in addition to regular changes take some more time.
Tower Map (Betrayal)
Tower Map
Map Level: 82
Map Tier: 15
Guild Character: 0
We ascend to great heights to commit low acts.
Travel to this Map by using it in the Templar Laboratory or a personal Map Device. Maps can only be used once.
Acquisition
Level: 81
DROP DISABLED
Purchase Costs
Sell Price
1x Scroll Fragment
Miscellaneous
Item class: Maps
Id
MapWorldsTower
Act
11
Area level
76
Bosses
Bazur
Liantra
Area type tags
dungeon
Tags
indoors_area, map, cannot_be_twinned, delve_chest, einharmaps, tower_area, lightning_area, rain_area
The Shaper: We ascend to great heights to commit low acts.
We ascend to great heights to commit low acts.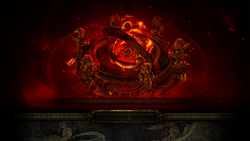 Tower Map (Betrayal) is a map area.
Layout
Encounters
Boss
Boss video
Items found in this area
Item
The Warden

The Warden

4

Amulet


Corrupted

Brutus' first innovation as Lord Incarcerator was a weighted chain around every neck so that his prisoners would forever bow to him.

1
The Gambler

The Gambler

5

Divination Card

"I don't believe in karma. If it were real, I would never win."

1
The Encroaching Darkness

The Encroaching Darkness

8

Map


Corrupted

No matter where your dreams take you, Nightmare follows close behind.

1
The Trial

The Trial

7

Map




Map Tier:

15


Corrupted

You cannot journey to new lands until you have the courage to leave the safety of home.

1
The Tower

The Tower

6

Staff

A tower built of the strongest stone is not eternal; a towering intellect is not enlightened.

1
The Aesthete

The Aesthete

8

Shavronne Item

"Some see our mortal flesh as a limitation. I see it as an opportunity for vast, miraculous improvements."
- Shavronne of Umbra
1
The Offering

The Offering

8

Shavronne's Wrappings

Eternal beauty has a cost, one which Shavronne was happy to pay with the lives of others.

1
Thunderous Skies

Thunderous Skies

5

Storm Cloud

Many that have wielded the power of lightning have said that death by electrocution looks like the victim is more alive than ever before.

1
Bone Helmet

Bone Helmet

Armour: 197
Energy Shield: 38Requires Level 73, 76 Str, 76 IntMinions deal (15-20)% increased Damage
73
Steel Ring

Steel Ring

Requires Level 80Adds (3-4) to (10-14) Physical Damage to Attacks
80
The Wretched

The Wretched

6

Belt

Necromancers, believe me, are more terrifying than their thralls.

1
Lingering Remnants

Lingering Remnants

16

Vaal Temple Map


Item Level:

83


CorruptedNever dying, yet not living,
Endlessly they wander
beneath the harvest moon.
1
Struck by Lightning

Struck by Lightning

3

Electrocuting Jewellery




Item Level:

76

'Lightning never strikes the same place twice'
is really just wishful thinking.
1
The Nurse

The Nurse

8

The Doctor

We tried to tell him to get his head checked.

1
Item acquisition
This item is drop disabled.
Unique versions
There are currently no unique items for this base item type.
Version history
Version
Changes
3.9.0

The Atlas of Worlds has been reworked. You now start at the centre and will work your way outwards as you explore a new storyline.
Added a new mechanic - Watchstones: These can only be obtained by defeating one of the new Atlas bosses. They can be used to raise the tier of all maps in a particular region of the Atlas, causing all maps of those base types to drop at the new higher tier.

3.5.0

The Atlas of Worlds has been shuffled. Most maps have changed tier and location within the Atlas.
(Not in patch notes) The Atlas will now be shuffled every league.

3.1.0

The entire Atlas has been reworked. Many map names have changed, as have their balance, tier and position on the Atlas. Many maps have also had their boss fights swapped or completely reworked.
The rules used to generate monsters in endgame maps have been significantly reworked and rebalanced around the rate at which we expect players to reliably clear out the map. In general, narrow, linear maps will contain fewer total monsters than maps with complex layouts. We will be closely monitoring and adjusting the balance of this change and expect to make further changes and improvements over time.

2.4.0