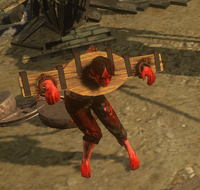 Tolman is the now-deceased boyfriend of Clarissa. He was captured together with Clarissa while they were out in the Slums and subsequently tortured to death by Piety of Theopolis in the Crematorium in what is presumably one of her thaumaturgical experiments. Retrieving the
Tolman's BraceletTolman's BraceletA craftswoman's ode to
fresh hope, a new love.
he was given by Clarissa is the objective of the Lost in Love quest.
Dialogue
References