Consider helping out in updating the wiki for 3.12.0 - see Path of Exile Wiki:To-do list/3.12.0.
Game data exports will becoming later as the technical changes in addition to regular changes take some more time.
Timeworn Reliquary
Timeworn Reliquary
Map area, Unique Map area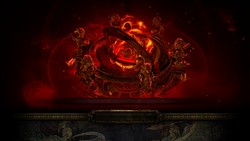 Area does not contain Rogue Exiles (Hidden)
The Timeworn Reliquary is an area accessible by placing an
Timeworn Reliquary KeyTimeworn Reliquary KeyThough flesh may decay, and bones turn to dust, the spirit fades not.
Floundering eternal in pools of tranquil dark.Travel to the Timeworn Reliquary by using this item in the Templar Laboratory or a personal Map Device. Can only be used once.
in a Map Device. This area does not have Atlas completion marks.
The area contains no monsters and a single Timeworn Chest Relic Vault, which contains one to three Timeworn Relic items. Timeworn Relics are Relic versions of league-specific unique items (not including the Delve challenge league and after), that use their current balance values.
The Timeworn Reliquary should not be confused with the Ancient Reliquary, which was only available during the Legacy leagues and contained unique items with legacy values.
Gallery
Version history
| Version | Changes |
| --- | --- |
| 3.4.0 | |