Consider helping out in updating the wiki for 3.12.0 - see Path of Exile Wiki:To-do list/3.12.0.
Game data exports will becoming later as the technical changes in addition to regular changes take some more time.
The Vastiri Desert

Id
2_9_3
Act
9
Area level
61
Area type tags
shore
Tags
einharscorpion, desert_area
Connections
The Descent
2_9_4
2_9_5
Vaal Areas
Shifting Sands (1_SideArea9_3)
Blustering sand, sharper than a bandit's blade.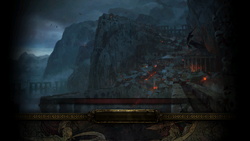 The Vastiri Desert is an area with a Waypoint in Act 9. It is connected to The Descent, The Foothills and The Oasis. Vaal side area Shifting Sands has a chance to spawn.
Quests
Monsters
After opening the chest for The Storm Blade:
Items found in this area
Item
Earth Drinker

Earth Drinker

5

Granite Flask

Taste and grow strong. Drink too much and be buried.

1
Rebirth

Rebirth

27

Charan's SwordHe shattered Her smile
Scattered the fragments like ash
All she did was laugh
1
Imperial Legacy

Imperial Legacy

22

Six-Link Imperial Bow


Item Level:

100

A life lost, A legacy born.

1
Lore
Version History
| Version | Changes |
| --- | --- |
| 3.0.0 | |