Consider helping out in updating the wiki for 3.12.0 - see Path of Exile Wiki:To-do list/3.12.0.
Game data exports will becoming later as the technical changes in addition to regular changes take some more time.
The Upper Sceptre of God
The Upper Sceptre of God
area
The pinnacle of power. The height of hubris.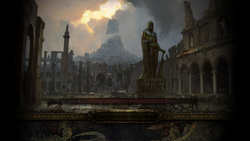 The Upper Sceptre of God is the final area of Act 3. This area does not have a waypoint and is connected to the Sceptre of God and the Aqueduct.
This area has three levels which are connected by stairs. The lowest area is connected to The Sceptre of God, and the highest area is dedicated to the fight with Dominus.
NPCs
Quests
Monsters
Guests:
Final Battle:
Items found in this area
Item
The Conduit

The Conduit

9

Doryani's Fist

The path to godhood is guided by the hand of sacrifice.

1
The Tower

The Tower

6

Staff

A tower built of the strongest stone is not eternal; a towering intellect is not enlightened.

1
Light and Truth

Light and Truth

2

Crystal SceptreTime and change
shall naught avail,
To dim the Light
of Truth's fair grail.
1
The Sephirot

The Sephirot

11

10x Divine Orb

If the path to divinity were simple, we'd all be gods.

1
Version history