Consider helping out in updating the wiki for 3.12.0 - see Path of Exile Wiki:To-do list/3.12.0.
Game data exports will becoming later as the technical changes in addition to regular changes take some more time.
The Tunnel

Unspeakable horrors filigree and haunt the nameless dark.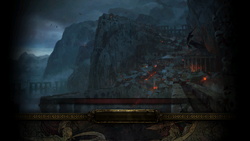 The Tunnel is an area with a Waypoint in Act 9. It is connected to the Foothills and the Quarry. Vaal side area Haunted Mineshaft has a chance to spawn.
NPCs
Quests
Monsters
Items found in this area
Item
Gift of the Gemling Queen

Gift of the Gemling Queen

9

Level 20 Support Gem

Our Lady Dialla,
as a symbol of our progress,
shines greater than all the gems.
1
Volatile Power

Volatile Power

9

Superior Vaal Gem




Quality:

+20%


Corrupted

Unlimited power is apt to corrupt the minds of those who possess it.

1
The Endurance

The Endurance

4

Vivid Crimson Jewel

Crimson rubies, drops of vigour,
flowing through my veins,
flesh like coal, try to crush me,
diamond is what remains.
1