Consider helping out in updating the wiki for 3.12.0 - see Path of Exile Wiki:To-do list/3.12.0.
Game data exports will becoming later as the technical changes in addition to regular changes take some more time.
As part of the Unified Community Platform project, your wiki will be migrated to the new platform in the next few weeks. Read more here.
The Torched Courts (Act 5)
Fuelled by blood and chaos, a dark inferno engulfs the halls of justice.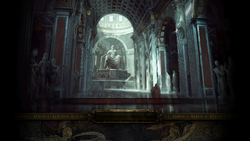 The Torched Courts is an area in Act 5. This area does not have a waypoint and is connected to The Chamber of Innocence and The Ruined Square.
The Torched Courts replaces The Templar Courts after the player defeats High Templar Avarius. The layout is practically identical; the exile reverses their course, heading counterclockwise through the winding offices and archives. Kitava's influence has immediately turned the location to riot and ruin and started a number of small fires.
Monsters
Items found in this area
Item
The Standoff

The Standoff

3

Rustic Sash

Sometimes your greatest enemy is the only one keeping you breathing.

1
The Blazing Fire

The Blazing Fire

6

Chin Sol

Lethal, untouchable, keen, aflame. Just what I was looking for.

1
Version history
| Version | Changes |
| --- | --- |
| 3.0.0 | |