Consider helping out in updating the wiki for 3.12.0 - see Path of Exile Wiki:To-do list/3.12.0.
Game data exports will becoming later as the technical changes in addition to regular changes take some more time.
The Torched Courts (Act 10)
Pious priests once dealt cruel justice within these halls, now they both smoulder in silent agony.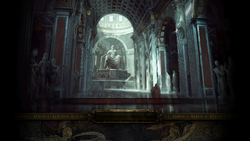 The Torched Courts (Act 10) is an area in Act 10. It is connected to The Ravaged Square and The Desecrated Chambers. Vaal side area Cremated Archives has a chance to spawn.
NPCs
Quests
Monsters
Items found in this area
Item
The Standoff

The Standoff

3

Rustic Sash

Sometimes your greatest enemy is the only one keeping you breathing.

1
The Blazing Fire

The Blazing Fire

6

Chin Sol

Lethal, untouchable, keen, aflame. Just what I was looking for.

1
Lore
Version History
| Version | Changes |
| --- | --- |
| 3.0.0 | |