The Templar Courts

Only those with faithful eyes may enter these solemn chambers unbidden.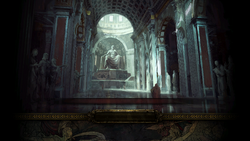 The Templar Courts is an area in Act 5. This area has a waypoint and is connected to Oriath Square and The Chamber of Innocence.
After the player defeats High Templar Avarius, The Templar Courts is replaced by The Torched Courts.
Monsters
Items found in this area
There are currently no items that have a drop table specific to this area.
Version history
| Version | Changes |
| --- | --- |
| 3.0.0 | |