Consider helping out in updating the wiki for 3.12.0 - see Path of Exile Wiki:To-do list/3.12.0.
Game data exports will becoming later as the technical changes in addition to regular changes take some more time.
The Slave Pens

In Oriath's darkest corner, the spark of rebellion ignites.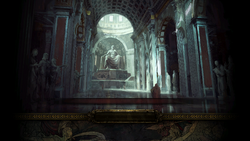 The Slave Pens is an area in Act 5. This area has a waypoint and is connected to Overseer's Tower and The Ascent, though you cannot travel back to The Ascent.
The Resonator portal takes the player to the slave district of Theopolis, where there is currently a rebellion. The area is a maze of cages and hallways, and the player must kill Overseer Krow before they can enter the Overseer's Tower.
Monsters
Items found in this area
Item
The Warden

The Warden

4

Amulet
Corrupted

Brutus' first innovation as Lord Incarcerator was a weighted chain around every neck so that his prisoners would forever bow to him.

1
Rebirth

Rebirth

27

Charan's SwordHe shattered Her smile
Scattered the fragments like ash
All she did was laugh
1
Version history
| Version | Changes |
| --- | --- |
| 3.0.0 | |