The Shaper's Realm
The Shaper's RealmMap Level: 84
Map Tier: 17
Guild Character: ¥Travel to this Map by using it in a personal Map Device. Maps can only be used once.
Acquisition
Level: 83Sell Price
1x Scroll FragmentMiscellaneous
Item class: Maps
The Shaper's Realm
Map area, Unique Map area
| | |
| --- | --- |
| Id | MapWorldsShapersRealm |
| Act | 11 |
| Area level | 84 |
| Bosses | The Shaper |
| Area type tags | urban |
| Tags | map, no_echo, no_strongboxes, no_leaguestone, no_tempests |
| | The Shaper: I see you, little mouse... you don't belong here. Run along! |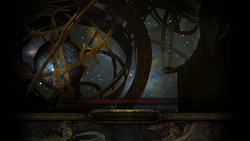 The Shaper's Realm is a map area.
Depends on which set of map fragments, the area is either the arena for The Shaper fight (
Key to the CrucibleKey to the CrucibleCan be used in a personal Map Device.
; aka The Shaper Set), or the dual boss fight of Uber Elder and The Shaper (
Maddening ObjectMaddening ObjectCan be used in a personal Map Device.
). This article focus on The Shaper fight only.
The area id of the Shaper version is MapWorldsShapersRealm. The Uber Elder version is MapWorldsElderArenaUber.
Layout

The first stage of The Shaper fight is carried on the X-shaped area. There are 4 portals to arenas for 4 minibosses (the pool is draw from existing map bosses). After that, there is a portal to the arena proper for the Shaper. The fight is divided in phases, which the Shaper would teleport the player character twice to another linear areas for another minibosses The Uncreated and The Unshaped. Killing the two minibosses will teleport the player character back to the Shaper's arena.
Encounters
Boss
Boss video
NPC
Items found in this area
Item
The Gambler

The Gambler

5

Divination Card

"I don't believe in karma. If it were real, I would never win."

1
The Encroaching Darkness

The Encroaching Darkness

8

Map
Corrupted

No matter where your dreams take you, Nightmare follows close behind.

1
Read The Shaper#Items found from this monster for boss loots.
Item acquisition
Upgrade paths
This item can be acquired through the following upgrade paths or vendor recipes:

Amount
Ingredient
General
Notes
Type
1
Maddening Object

Maddening Object

Can be used in a personal Map Device.

Use this map fragments set in Map Device for Uber Elder and Shaper dual bosses fight
Manual
1
Key to the Crucible

Key to the Crucible

Can be used in a personal Map Device.

Use this map fragments set in Map Device for The Shaper fight
Manual
Version history
Version
Changes
3.9.0

The Shaper and Elder storyline is gone and has been replaced by a story that takes place in the aftermath of the old story.
The Elder, Shaper, and combined Elder and Shaper encounters can still be accessed. If you're lucky, Zana may offer a Shaper or Elder guardian's map!

3.2.0
3.1.0
2.4.0