Consider helping out in updating the wiki for 3.12.0 - see Path of Exile Wiki:To-do list/3.12.0.
Game data exports will becoming later as the technical changes in addition to regular changes take some more time.
The Sewers

What horrors lurk in the bowels of the city?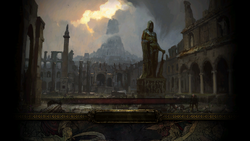 The Sewers is an area in Act 3. This area has a waypoint and is connected to The Slums, The Marketplace, and The Ebony Barracks.
Destroy the Undying Blockade with the
Infernal TalcInfernal Talc"A Virtue Gem is a raging thunderstorm imprisoned within a single raindrop.
Infernal Talc simply lets the storm out." - Malachai the Soulless
to gain access to The Ebony Barracks.
The Undercity Hideout can be found here.
Quests
Monsters
Items found in this area
Item
The Feast

The Feast

5

Romira's Banquet
Corrupted

Shame what happened to my husband. He had such good taste.

1
Version History