Consider helping out in updating the wiki for 3.12.0 - see Path of Exile Wiki:To-do list/3.12.0.
Game data exports will becoming later as the technical changes in addition to regular changes take some more time.
The Rotting Core
The putrid interior oozes and spoils.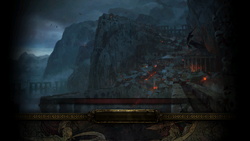 The Rotting Core is an area in Act 9. It is connected to The Belly of the Beast. Vaal side area has a chance to spawn.
NPCs
Quests
Monsters
The Rotting Core:
The Black Heart after killing; Doedre, Darksoul, Maligaro, The Broken, Shavronne, Unbound:
In Doedre's Despair:
In Maligaro's Misery:
In Shavronne's Sorrow:
Items found in this area
Item
The Hoarder

The Hoarder

12

Exalted Orb

"More! I want more!" - Faendris, the Insatiable

1
The Hunger

The Hunger

9

Taste of Hate"How many lives have you consumed?"
"How many times have you blinked?"
1
The Offering

The Offering

8

Shavronne's Wrappings

Eternal beauty has a cost, one which Shavronne was happy to pay with the lives of others.

1
The Oath

The Oath

6

Death's Oath

An oath once made is an oath never broken. Do not delay in keeping it, for I take no pleasure in fools.

1
The Insatiable

The Insatiable

3

The Harvest
Corrupted

A lust for souls. The urge to kill just to satisfy its thirst. An unbearable burden that would make even the purest heart blacken over time.

1
Lore
Version History
| Version | Changes |
| --- | --- |
| 3.0.0 | |