The Reliquary (Act 5)

A trove of shameful relics displayed with pride.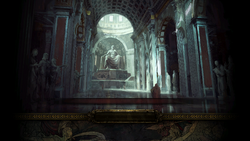 The Reliquary is an area in Act 5. This area has a waypoint and is connected to Ruined Square.
Quests
Monsters
Items found in this area
Item
Blind Venture

Blind Venture

7

Ring
Corrupted"It's risky not knowing where your wares come from. That's why I source my own."
- Klayver, the Antiquarian
1
The Polymath

The Polymath

3

Astramentis

Genius knows no limits.

1
Might is Right

Might is Right

9

Trypanon

The mind had much to endure before the advent of thaumaturgy.

1
Lore
The Reliquary functions as a museum of artifacts, including those of the Karui. In particular there are the three Kitava's Torments, artifacts belonging to the Karui gods: Hinekora's Hair, Tukohama's Tooth, and Valako's Jaw, along with a plaque explaining the legend explaining the origins of each item.
Version history
| Version | Changes |
| --- | --- |
| 3.0.0 | Introduced to the game as part of Act 5. |