Consider helping out in updating the wiki for 3.12.0 - see Path of Exile Wiki:To-do list/3.12.0.
Game data exports will becoming later as the technical changes in addition to regular changes take some more time.
The Quay
The restless dead shift 'neath darkened waters.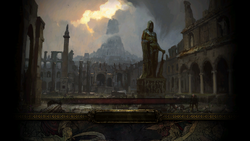 The Quay is an area in Act 8. It is connected to Doedre's Cesspool and the Grain Gate. Vaal side area Blind Alley has a chance to spawn.
NPCs
Quests
Monsters
Items found in this area
Item
The Poet

The Poet

9

Blood of Corruption
CorruptedGod had forsaken the land
And Victario wept.
Corruption consumed the land
And Victario's tears turned to blood.
1
Jack in the Box

Jack in the Box

4

Item

Turn the crank,
close your eyes,
and pray to the gods
for a pleasant surprise.
1
Lucky Connections

Lucky Connections

7

20x Orb of Fusing

Luck is a fool's game, and I know plenty of rich fools.

1
The Pact

The Pact

9

Pledge of Hands

"On this day I mark the first of many agreements that I will have with this land and its people."

1
Assassin's Favour

Assassin's Favour

9

Dagger

By the time their eyes meet,
the dark deal has long since been made,
and his fate long since sealed.
1
Lore
Version History
| Version | Changes |
| --- | --- |
| 3.0.0 | |