The Quarry

A monstrous terror stalks chthonic mines, yearning for the boundless sky.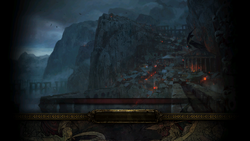 "Quarry" redirects here. For the map that formerly known as Quarry Map, see
Geode Map
.
The Quarry is an area with a Waypoint in Act 9. It is connected to The Tunnel, The Refinery and The Belly of the Beast (Act 9).
In the west there is an arena in which you can find Kira for The Ruler of Highgate and where you must defeat Garukhan, Queen of the Winds.
NPCs
Quests
Monsters
In the Arena:
Items found in this area
Item
Gift of the Gemling Queen

Gift of the Gemling Queen

9

Level 20 Support GemOur Lady Dialla,
as a symbol of our progress,
shines greater than all the gems.
1
Volatile Power

Volatile Power

9

Superior Vaal Gem


Quality:

+20%


Corrupted

Unlimited power is apt to corrupt the minds of those who possess it.

1
The Endurance

The Endurance

4

Vivid Crimson JewelCrimson rubies, drops of vigour,
flowing through my veins,
flesh like coal, try to crush me,
diamond is what remains.
1
Rebirth

Rebirth

27

Charan's SwordHe shattered Her smile
Scattered the fragments like ash
All she did was laugh
1
Version History
| Version | Changes |
| --- | --- |
| 3.0.0 | |