Consider helping out in updating the wiki for 3.12.0 - see Path of Exile Wiki:To-do list/3.12.0.
Game data exports will becoming later as the technical changes in addition to regular changes take some more time.
The Plaguemaw's Offering
The Plaguemaw's Offering
Arcanist's Strongbox
Guarded by 3 packs of Monsters
Contains 5 additional Items
Temptation is man's greatest folly.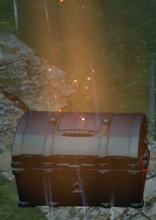 The Plaguemaw's Offering is a unique Arcanist's Strongbox.
It spawns in The Imperial Gardens (or other area specify in the prophecy) with the
The Plaguemaw IVThe Plaguemaw IVIn a maze of green, the Plaguemaw sets a trap baited with treasures.You will be ambushed by the Plaguemaw's followers in the Imperial Gardens, Gardens Map, Courtyard Map, or Orchard Map.Right-click to add this prophecy to your character.Seal Cost:
8x
Silver Coin
Prophecy active. The Plaguemaw IV is part of The Plaguemaw prophecy chain.
Version history
| Version | Changes |
| --- | --- |
| 2.3.0 | |