Consider helping out in updating the wiki for 3.12.0 - see Path of Exile Wiki:To-do list/3.12.0.
Game data exports will becoming later as the technical changes in addition to regular changes take some more time.
The Perandus Manor (Atlas of Worlds)
The Perandus Manor
Chateau Map
Map Level: 78
Map Tier: 11
Guild Character: ™
Item Quantity: (+60%-+100%)
Item Rarity: (+200%-+300%)
(100-150)% increased Experience gain
(200-300)% more Rare Monsters
(30-40)% more Monster Life
(16-24)% increased Monster Damage
Forget kings and emperors;
He who holds the coin holds all the power.
Travel to this Map by using it in the Templar Laboratory or a personal Map Device. Maps can only be used once.
Acquisition
League(s): Perandus


DROP DISABLED
Purchase Costs
Sell Price
6x Alchemy Shard
Miscellaneous
Item class: Maps
Perandus Manor
Map area, Unique Map area
Id
MapAtlasChateauUnique
Act
11
Area level
78
Bosses
Platinia, Servant of Prospero
Auriot, Prospero's Furnace Guardian
Rhodion, Servant of Prospero
Osmea, Servant of Prospero
Pallias, Servant of Prospero
Argient, Servant of Prospero
Rheniot, Servant of Prospero
Area type tags
urban, dungeon, temple
Tags
indoors_area, map, no_strongboxes, unique_map, ambush_leaguestone, domination_leaguestone, perandus_leaguestone, prophecy_leaguestone, essence_leaguestone, breach_leaguestone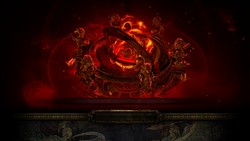 Area contains Cadiro Perandus
Version history
Version
Changes
3.6.0

The Atlas of Worlds has been shuffled. Most maps have changed tier and location within the Atlas.

3.5.0

The Atlas of Worlds has been shuffled. Most maps have changed tier and location within the Atlas.

3.3.0

The Perandus Manor is once again on the Atlas, connected to Chateau.
Now has a 100% chance to spawn Cadiro Perandus somewhere in it.
(undocumented) Added

Monster Level: 78

.

3.1.0

The Perandus Manor unique map is no longer on the Atlas.

2.2.1

Enabled the Perandus Manor map. This map can be sold by Cadiro in Tier 5 and above maps for 2500 coins.

2.2.0