Consider helping out in updating the wiki for 3.12.0 - see Path of Exile Wiki:To-do list/3.12.0.
Game data exports will becoming later as the technical changes in addition to regular changes take some more time.
The Ossuary (Act 10)
The dead offer thanks, for they have been spared this final savagery.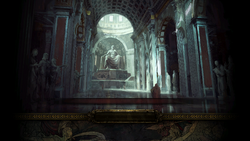 The Ossuary (Act 10) is an area in Act 10. It is connected to The Ravaged Square. Vaal side area has a chance to spawn. There is a Trial of Ascendancy in this area.
NPCs
None
Quests
Monsters
Items found in this area
Item
Coveted Possession

Coveted Possession

9

5x Regal Orb

A taste of power brings a hunger for more.

1
Grave Knowledge

Grave Knowledge

6

Summon Raging Spirit


Quality:

+20%

The dead tell me great insights. They've had nothing but time to sit and think.

1
Might is Right

Might is Right

9

Trypanon

The mind had much to endure before the advent of thaumaturgy.

1
No Traces

No Traces

9

30x Orb of Scouring

There is no mistake so great that it cannot be undone.

1
Rebirth

Rebirth

27

Charan's SwordHe shattered Her smile
Scattered the fragments like ash
All she did was laugh
1
Lore
Version History
| Version | Changes |
| --- | --- |
| 3.0.0 | |