Consider helping out in updating the wiki for 3.12.0 - see Path of Exile Wiki:To-do list/3.12.0.
Game data exports will becoming later as the technical changes in addition to regular changes take some more time.
The Old Fields
Sick pastures, feverish to the touch.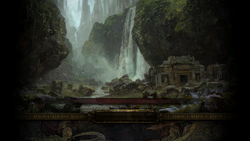 The Old Fields is an area in Act 2. This area has no waypoint and is connected to The Forest Encampment, The Den, and The Crossroads.
Waist-high stone walls and crumbling arches are all that remain of Azmeri settlers. A winding road leads east from the town to the Crossroads exit, with Gneiss blocking the path at one point. The Den is placed randomly on either side of the road, closer to the crossroads than the encampment.
Monsters
Items found in this area
Item
The Scarred Meadow

The Scarred Meadow

9

Wake of Destruction

The earth offers nourishment, growth and healing. Unless, of course, the sky has other plans.

1
Version History
| Version | Changes |
| --- | --- |
| 2.0.0 | Zone levels changed from 16/41/57 to 14/45/60 due to 2.0 progression balancing. |