Consider helping out in updating the wiki for 3.12.0 - see Path of Exile Wiki:To-do list/3.12.0.
Game data exports will becoming later as the technical changes in addition to regular changes take some more time.
The Oasis
A paradise hidden amongst sunbleached bones and blistering dunes.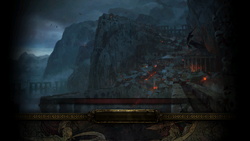 The Oasis is an area in Act 9. It is connected to the Vastiri Desert, The Sand Pit, and The Forbidden Vault. Vaal side area Shifting Sands and Dusty Bluff have a chance to spawn.
A side zone called The Forbidden Vault can be found containing Jun and the remains of her Order. Another side zone called The Sand Pit can be found containins Shakari, Queen of the Sands for the quest
Queen of the Sands.
NPCs
Quests
Queen of the Sands
Monsters
Items found in this area
Item
Earth Drinker

Earth Drinker

5

Granite Flask

Taste and grow strong. Drink too much and be buried.

1
Imperial Legacy

Imperial Legacy

22

Six-Link Imperial Bow


Item Level:

100

A life lost, A legacy born.

1
Lore
Version History
| Version | Changes |
| --- | --- |
| 3.0.0 | |