Consider helping out in updating the wiki for 3.12.0 - see Path of Exile Wiki:To-do list/3.12.0.
Game data exports will becoming later as the technical changes in addition to regular changes take some more time.
The Northern Forest (Act 7)

Wooden sentinels tower above.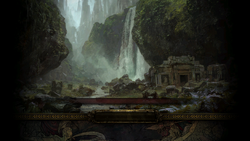 The Northern Forest is an area in Act 7. This area has a waypoint and is connected to The Ashen Fields, The Dread Thicket, and The Causeway.
Quests
Monsters
Items found in this area
Item
The Betrayal

The Betrayal

9

Maligaro's Virtuosity

It's sad times we live in when a friendship has a price people are willing to pay.

1
The Demoness

The Demoness

5

Death's Hand

Wherever she went, death was sure to follow.

1
Call to the First Ones

Call to the First Ones

5

Tier 1 Talisman
Corrupted

The Ezomyte, desperate for aid, cried out to the gods.

1
Version history
| Version | Changes |
| --- | --- |
| 3.0.0 | |