Consider helping out in updating the wiki for 3.12.0 - see Path of Exile Wiki:To-do list/3.12.0.
Game data exports will becoming later as the technical changes in addition to regular changes take some more time.
The Menagerie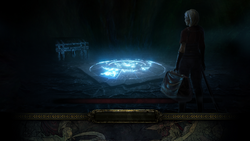 Area does not contain Rogue Exiles (Hidden)
The Menagerie is an area. This area has a waypoint and is connected to Menagerie Caverns, Menagerie Depths, Menagerie Sands, and Menagerie Wilds.
Overview
The Menagerie is a place to hold collectable beasts encountered in Wraeclast. The area is open for access once the Einhar's Hunt quest is completed.
Captured beasts end up here. Beasts are captured by Einhar once weakened. The collected beasts can be sacrificed in the Blood Altar for beastcrafting. Einhar sells Bestiary Orb at the Menagerie which can be used to store beasts.
The Menagerie contains 4 sub-areas:
Each sub-area containing between 9 and 16 pens which hold the collected monsters sorted by monster type. There are 44 pens all up. Each holding pen can hold between 5 monsters (e.g. Amphibians->Gem Frogs) and 56 monsters (Arachnids->Spiders), depending on the pen.
Version history
| Version | Changes |
| --- | --- |
| 3.5.0 | There is now a global capture limit of 1000 beasts, rather than a per-genus limit. The previous total maximum was approximately 680, though most players were likely to hit genus-specific limits. |
| 3.2.0 | |