Consider helping out in updating the wiki for 3.12.0 - see Path of Exile Wiki:To-do list/3.12.0.
Game data exports will becoming later as the technical changes in addition to regular changes take some more time.
The Imperial Fields

The savagery of war stains both muck and mire.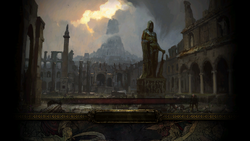 The Imperial Fields is an area in Act 8. This area has a waypoint and is connected to The Grain Gate and The Solaris Temple.
NPCs
Quests
Monsters
In the fields:
Outside of the solaris temple:
Items found in this area
Item
Three Faces in the Dark

Three Faces in the Dark

7

3x Chaos Orb

For every threat you spy in the shadows, there are two others you don't.

1
Jack in the Box

Jack in the Box

4

Item

Turn the crank,
close your eyes,
and pray to the gods
for a pleasant surprise.
1
Rain of Chaos

Rain of Chaos

8

Chaos OrbFire filled the sky that night
Chaos reigned
Where the shards fell
All was destroyed
-Jozen Kasigi, retelling an urban legend of the Cataclysm
1
Rats

Rats

8

Rat's Nest

Whoever said 'more is always better' has obviously never met a rat.

1
The Harvester

The Harvester

11

The HarvestTaste not of their
forbidden fruit.
Theirs is a harvest of
the darkest kind,
twisted, rotten and
damned for eternity.
1
The Saint's Treasure

The Saint's Treasure

10

2x Exalted Orb

Publicly, he lived a pious and chaste life of poverty. Privately, tithes and tributes made him and his lascivious company very comfortable indeed.

1
Lore
Version History
| Version | Changes |
| --- | --- |
| 3.0.0 | |