Consider helping out in updating the wiki for 3.12.0 - see Path of Exile Wiki:To-do list/3.12.0.
Game data exports will becoming later as the technical changes in addition to regular changes take some more time.
The Grand Promenade
A favourite walk of noble lords, now fallen into disrepair.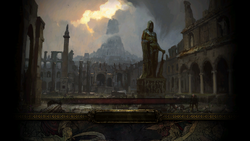 The Grand Promenade is an area in Act 8. This area does not have a waypoint and is connected to Doedre's Cesspool and The Bath House.
Monsters
Items found in this area
Item
The Carrion Crow

The Carrion Crow

4

Life Armour

From death, life.
From life, death.
The wheel turns,
and the corbies wheel overhead.
1
Jack in the Box

Jack in the Box

4

Item

Turn the crank,
close your eyes,
and pray to the gods
for a pleasant surprise.
1
Version history
| Version | Changes |
| --- | --- |
| 3.0.0 | |