Consider helping out in updating the wiki for 3.12.0 - see Path of Exile Wiki:To-do list/3.12.0.
Game data exports will becoming later as the technical changes in addition to regular changes take some more time.
The Grain Gate

A barrier trembles before undying feet.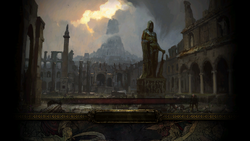 The Grain Gate is an area in Act 8. This area has a waypoint and is connected to The Quay and The Imperial Fields.
Layout
The layout is similar to the removed area The Warehouse District as well as its map variant,
Arsenal MapArsenal MapMap Level: 70
Map Tier: 3
Guild Character: éThere is no war. There is no army. Only rage lingers.Travel to this Map by using it in a personal Map Device. Maps can only be used once.
.
In addition, corpses near the entrances of indoor areas , are indicator of direction.
NPCs
Quests
Monsters
Items found in this area
Item
Three Faces in the Dark

Three Faces in the Dark

7

3x Chaos Orb

For every threat you spy in the shadows, there are two others you don't.

1
Jack in the Box

Jack in the Box

4

Item

Turn the crank,
close your eyes,
and pray to the gods
for a pleasant surprise.
1
The Gentleman

The Gentleman

4

Sword


Corrupted

"Axes and mauls are so uncivilised. A good clean cut to the neck with a sharp blade, that's the Sarn way!"

1
Rats

Rats

8

Rat's Nest

Whoever said 'more is always better' has obviously never met a rat.

1
The Saint's Treasure

The Saint's Treasure

10

2x Exalted Orb

Publicly, he lived a pious and chaste life of poverty. Privately, tithes and tributes made him and his lascivious company very comfortable indeed.

1
Lore
Version History
| Version | Changes |
| --- | --- |
| 3.0.0 | |