Consider helping out in updating the wiki for 3.12.0 - see Path of Exile Wiki:To-do list/3.12.0.
Game data exports will becoming later as the technical changes in addition to regular changes take some more time.
The Foothills

The secrets of history lie hidden among layers of dirt and sand.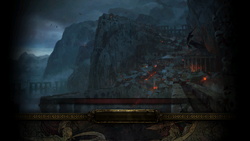 The Foothills is an area with a Waypoint in Act 9. It is connected to The Vastiri Desert , The Boiling Lake and The Tunnel. Vaal side area Forgotten Gulch has a chance to spawn.
Quests
Monsters
Items found in this area
Item
Earth Drinker

Earth Drinker

5

Granite Flask

Taste and grow strong. Drink too much and be buried.

1
Cartographer's Delight

Cartographer's Delight

3

Map




Map Tier:

5

A map is similar
to a pair of eyes,
without one you stumble
around, unable to find your way.
1
Calendar of Fortune

Calendar of Fortune

The King looked upon images swirling atop the ancient stone dial.
"You look peaceful" he told his bride-to-be, "So peaceful, asleep in our wedding bed."
But in phantasm, she did not slumber, and what he saw was not a place for dreams,
rather, a wooden box... about to be closed and lowered into earthy depths.
- Maraketh Legend
1
The Ruthless Ceinture

The Ruthless Ceinture

7

Meginord's Girdle
CorruptedIn combat, a warrior must first be resourceful,
and second, decisive.
1
Rebirth

Rebirth

27

Charan's SwordHe shattered Her smile
Scattered the fragments like ash
All she did was laugh
1
Imperial Legacy

Imperial Legacy

22

Six-Link Imperial Bow


Item Level:

100

A life lost, A legacy born.

1
Lore
Version History
| Version | Changes |
| --- | --- |
| 3.0.0 | |