Consider helping out in updating the wiki for 3.12.0 - see Path of Exile Wiki:To-do list/3.12.0.
Game data exports will becoming later as the technical changes in addition to regular changes take some more time.
The Fellshrine Ruins (Act 7)
A spirit of sadism blemishes the earth.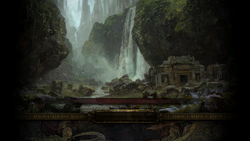 The Fellshrine Ruins is an area in Act 7. This area does not have a waypoint and is connected to The Crossroads and The Crypt.
Monsters
Items found in this area
Item
The Hermit

The Hermit

9

Lifesprig

The hermit's only friend is the greenery he can find.

1
The Fox

The Fox

6

Level 20 Gem

"Masters of wit, strength and cunning. To survive the harsh winters, you must be like the fox."
- Ezomyte Proverb
1
Lore
Version history
| Version | Changes |
| --- | --- |
| 3.0.0 | |