Consider helping out in updating the wiki for 3.12.0 - see Path of Exile Wiki:To-do list/3.12.0.
Game data exports will becoming later as the technical changes in addition to regular changes take some more time.
The Feeding Trough
Cries of torment and pathetic moans as the unholy banquet of flesh continues.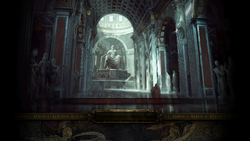 The Feeding Trough is an area in Act 10. It is connected to The Canals and Oriath. Both Vaal side area Secluded Canal and Sealed Basement have a chance to spawn.
NPCs
Quests
Monsters
Items found in this area
Item
The Wrath

The Wrath

8

10x Chaos Orb

"Daughter of catastrophe, mother of pain. Amongst the filth of Wraeclast, she wanders, and her wrath follows." - Quintoon the Returned

1
Lore
Version History
| Version | Changes |
| --- | --- |
| 3.0.0 | |