Consider helping out in updating the wiki for 3.12.0 - see Path of Exile Wiki:To-do list/3.12.0.
Game data exports will becoming later as the technical changes in addition to regular changes take some more time.
The Docks

Life pales in the wake of progress.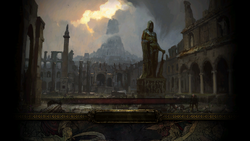 The Docks is an area in Act 3. It has a waypoint and is connected to The Battlefront.
From the Battlefront exit, the docks have a large central area with several paths branching outward. Stairs connect the higher paths with the lower platforms where boats were tied. Fairgraves and the waypoint are at the end of one path, and the quest item
Thaumetic SulphiteThaumetic SulphiteEssence of pure thaumaturgy.
Apply with trepidation.
is in a chest at the end of another branch.
NPCs
Quests
Monsters
Items found in this area
Item
Jack in the Box

Jack in the Box

4

Item

Turn the crank,
close your eyes,
and pray to the gods
for a pleasant surprise.
1
Lucky Connections

Lucky Connections

7

20x Orb of Fusing

Luck is a fool's game, and I know plenty of rich fools.

1
Lore
Version History