Consider helping out in updating the wiki for 3.12.0 - see Path of Exile Wiki:To-do list/3.12.0.
Game data exports will becoming later as the technical changes in addition to regular changes take some more time.
The Descent
A freezing drop to test one's resolve.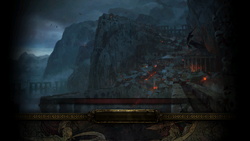 The Descent is an area in Act 9. It is connected to Highgate (Act 9) and The Vastiri Desert. Vaal side area has a chance to spawn.
NPCs
Quests
Monsters
Items found in this area
Item
The Ruthless Ceinture

The Ruthless Ceinture

7

Meginord's Girdle
CorruptedIn combat, a warrior must first be resourceful,
and second, decisive.
1
The Mountain

The Mountain

6

Jewel of Potency

Charmed by beautiful stones
Consumed with the
pursuit of perfection
Ever deeper into the waiting dark
1
Lore
Version History
| Version | Changes |
| --- | --- |
| 3.0.0 | |