Consider helping out in updating the wiki for 3.12.0 - see Path of Exile Wiki:To-do list/3.12.0.
Game data exports will becoming later as the technical changes in addition to regular changes take some more time.
As part of the Unified Community Platform project, your wiki will be migrated to the new platform in the next few weeks. Read more here.
The Crypt (Act 7)

Ancestral memories given life, then soured.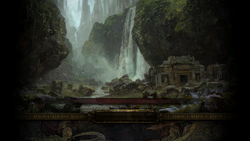 The Crypt is an area in Act 7. This area has a waypoint and is connected to The Fellshrine Ruins.
The area is much simplified compared to its Act 2 counterpart. A Trial of Ascendancy is present on the upper level, and a sarcophagus hides stairs leading to a lower level containing written archives, and most importantly Maligaro's Map.
Quests
Monsters
Items found in this area
Item
The Celestial Justicar

The Celestial Justicar

6

Six-Link Astral Plate

Wrapped in the glory of the heavens, she comes to mete out justice for the fallen.

1
Rebirth

Rebirth

27

Charan's SwordHe shattered Her smile
Scattered the fragments like ash
All she did was laugh
1
Lore
Version history
| Version | Changes |
| --- | --- |
| 3.0.0 | |