Consider helping out in updating the wiki for 3.12.0 - see Path of Exile Wiki:To-do list/3.12.0.
Game data exports will becoming later as the technical changes in addition to regular changes take some more time.
The Crossroads (Act 7)

Ancient cruelty tears through the cobbled intersection.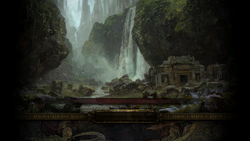 The Crossroads is an area in Act 7. This area has a waypoint and is connected to The Broken Bridge, The Fellshrine Ruins, and The Chamber of Sins Level 1.
The path to the southeast leads to the Ruins, the path to the southwest is blocked, and the path to the northeast leads to the Chamber of Sins.
Monsters
Items found in this area
Item
The Hermit

The Hermit

9

Lifesprig

The hermit's only friend is the greenery he can find.

1
Rain of Chaos

Rain of Chaos

8

Chaos OrbFire filled the sky that night
Chaos reigned
Where the shards fell
All was destroyed
-Jozen Kasigi, retelling an urban legend of the Cataclysm
1
The Betrayal

The Betrayal

9

Maligaro's Virtuosity

It's sad times we live in when a friendship has a price people are willing to pay.

1
The Fox

The Fox

6

Level 20 Gem

"Masters of wit, strength and cunning. To survive the harsh winters, you must be like the fox."
- Ezomyte Proverb
1
The Doppelganger

The Doppelganger

2

Superior Mirror Arrow




Quality:

+20%

Upon seeing her face, I am terrified—the moon shows me my own form!

1
Version history
| Version | Changes |
| --- | --- |
| 3.0.0 | |