Consider helping out in updating the wiki for 3.12.0 - see Path of Exile Wiki:To-do list/3.12.0.
Game data exports will becoming later as the technical changes in addition to regular changes take some more time.
The Chamber of Sins Level 1 (Act 7)
The Chamber of Sins Level 1
area

Decrepit ruins born again. A lusting evil stalks its halls.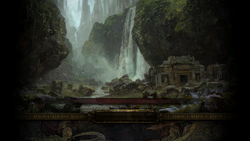 The Chamber of Sins Level 1 is an area in Act 7. This area has a waypoint and is connected to The Crossroads, Maligaro's Sanctum, and The Chamber of Sins Level 2.
Since the events of Act 2, the reverie device has become operational and is a partially functioning Map Device, leading to the Sanctum. The way to Level 2 is barred by a purple forcefield and requires the
Obsidian KeyObsidian Key"The cool blanket of shadows preserves our treasures."
- Inquisitor Maligaro
to open.
NPCs
Quests
Monsters
Items found in this area
Item
The Surgeon

The Surgeon

4

Surgeon's Flask

"He might be lacking in vision, but his virtuosity is undeniable."
- Malachai, on Maligaro
1
Emperor of Purity

Emperor of Purity

7

Six-Link Holy Chainmail




Item Level:

60

True to his title,
Voll, newly crowned,
had many of the
Eternal Empire's signature
extravagances destroyed.
1
The Garish Power

The Garish Power

4

Jewel

Maligaro may have valued function over form, but that did not mute his flair for the dramatic.

1
Lore
Version History
| Version | Changes |
| --- | --- |
| 3.0.0 | Introduced to the game as part of Act 7. |