Consider helping out in updating the wiki for 3.12.0 - see Path of Exile Wiki:To-do list/3.12.0.
Game data exports will becoming later as the technical changes in addition to regular changes take some more time.
The Broken Bridge (Act 7)
The stonework trembles atop this petrified land.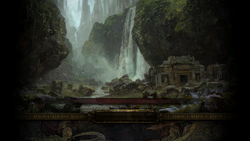 The Broken Bridge is an area in Act 7. This area does not have a waypoint and is connected to The Bridge Encampment and The Crossroads.
Quests
Monsters
Items found in this area
Item
The Hermit

The Hermit

9

Lifesprig

The hermit's only friend is the greenery he can find.

1
The Mercenary

The Mercenary

5

Shield


Corrupted

Loyalty can be bought. Just make sure you know who the buyer is.

1
Rebirth

Rebirth

27

Charan's SwordHe shattered Her smile
Scattered the fragments like ash
All she did was laugh
1
Version history
| Version | Changes |
| --- | --- |
| 3.0.0 | |