Consider helping out in updating the wiki for 3.12.0 - see Path of Exile Wiki:To-do list/3.12.0.
Game data exports will becoming later as the technical changes in addition to regular changes take some more time.
The Broken Bridge (Act 2)

A pure, soothing river once red and clogged with the victims of war.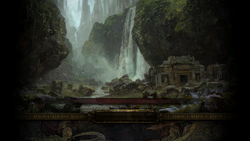 The Broken Bridge is an area in Act 2. This area has a waypoint and is connected to The Crossroads.
The road continues northeast from the Crossroads, leading to Kraityn's camp on the bridge at the east end of the map. The waypoint spawns on the side of the road.
Quests
Monsters
Guest Monsters:
Items found in this area
There are currently no items that have a drop table specific to this area.
Version History
| Version | Changes |
| --- | --- |
| 2.0.0 | Zone levels changed from 21/43/58 to 16/46/61 due to 2.0 progression balancing. |