Consider helping out in updating the wiki for 3.12.0 - see Path of Exile Wiki:To-do list/3.12.0.
Game data exports will becoming later as the technical changes in addition to regular changes take some more time.
The Bridge Encampment
The Bridge Encampment
Town area

Surviving rodents cling tight to cracks found in the masonry.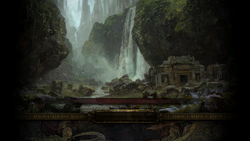 The Bridge Encampment is the town for Act 7 and is connected to The Broken Bridge and The Brine King's Reef. Like all towns, it has a Stash/Guild Stash, Noticeboard, Event noticeboard and Waypoint.
NPCs
Quests
Items found in this area
There are currently no items that have a drop table specific to this area.
Lore
Version History
| Version | Changes |
| --- | --- |
| 3.0.0 | |