Consider helping out in updating the wiki for 3.12.0 - see Path of Exile Wiki:To-do list/3.12.0.
Game data exports will becoming later as the technical changes in addition to regular changes take some more time.
The Boiling Lake
These corrosive waters devour both flesh and bone.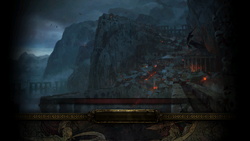 The Boiling Lake is an area in Act 9. It is connected to The Foothills. Vaal side area Desolate Isle has a chance to spawn.
Quests
Monsters
After killing the Basilisk:
Items found in this area
Item
The Eye of the Dragon

The Eye of the Dragon

10

Jewel


CorruptedSome powers are far too great even for the
gods of old.
1
Lore
Version History
| Version | Changes |
| --- | --- |
| 3.0.0 | |