Consider helping out in updating the wiki for 3.12.0 - see Path of Exile Wiki:To-do list/3.12.0.
Game data exports will becoming later as the technical changes in addition to regular changes take some more time.
The Blood Aqueduct

A mighty spillway tainted by tarrish blacks and sanguine reds.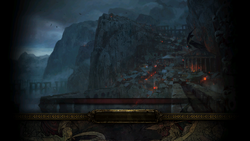 The Blood Aqueduct is an area in Act 9. This area has a waypoint and is connected to The Harbour Bridge and Highgate.
Monsters
Items found in this area
Item
The Carrion Crow

The Carrion Crow

4

Life ArmourFrom death, life.
From life, death.
The wheel turns,
and the corbies wheel overhead.
1
Humility

Humility

9

Tabula Rasa

1
Rebirth

Rebirth

27

Charan's SwordHe shattered Her smile
Scattered the fragments like ash
All she did was laugh
1
Version history
| Version | Changes |
| --- | --- |
| 3.0.0 | |