Consider helping out in updating the wiki for 3.12.0 - see Path of Exile Wiki:To-do list/3.12.0.
Game data exports will becoming later as the technical changes in addition to regular changes take some more time.
The Beachhead (Low Tier) (Atlas of Worlds)
The Beachhead
Harbinger MapMap Level: 72
Map Tier: 5
Item Quantity: (+40%-+60%)
Item Rarity: (+40%-+60%)Area contains 6 extra Harbingers
CorruptedTravel to this Map by using it in the Templar Laboratory or a personal Map Device. Maps can only be used once.
Acquisition
League(s): Harbinger
DROP DISABLEDSell Price
14x Alchemy ShardMiscellaneous
Item class: Maps
The Beachhead
Map area, Unique Map area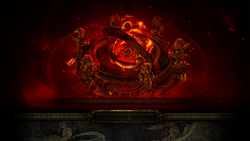 Walkthroughs