Consider helping out in updating the wiki for 3.12.0 - see Path of Exile Wiki:To-do list/3.12.0.
Game data exports will becoming later as the technical changes in addition to regular changes take some more time.
The Archives
All the knowledge in the Empire could not save them.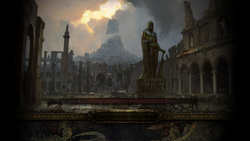 The Archives is an area in Act 3. This area does not have a waypoint and is connected to The Library.
Four golden pages appear in separate rooms randomly placed in the area. The layout is a branching maze of small rooms lined with bookcases.
Achievements
Quests
Monsters
Items found in this area
Item
The Scholar

The Scholar

3

40x Scroll of Wisdom

It is with the smallest of words that we find the largest of truths.

1
Thirst for Knowledge

Thirst for Knowledge

5

GluttonyA ravenous mind can readily take in ideas from any source.
Fortunately for the scholars, he has already learned about sustainability.
1
Lore
Version history